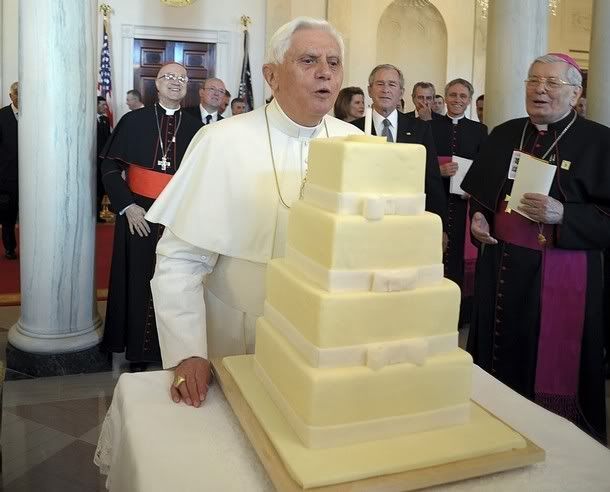 April 16, 2011 marks the 84th birthday of our Supreme Pontiff, Pope Benedict XVI. Although a young German priest friend of mine explained to me that the custom is to celebrate one's feast day, as opposed to one's birthday, April 16th is still cause for great celebration.
As Pope Benedict XVI explained in his book Milestones, Joseph Ratzinger was born on the same day as the Easter Vigil and was actually baptized almost immediately after birth, with newly blessed water. Perhaps it is no mere coincidence that this infant's life would be so intrinsically and inseparably tied to the Paschal Mystery. While all of us, through Baptism, have this tie, young Joseph seems to me to be united to this sacred mystery in a privileged manner. Interestingly enough, he was elected to the Chair of St. Peter during the Easter season, some three days after his birthday on April 19, 2005.
The Paschal Mystery does entail suffering. To this end, the Holy Father has had much to suffer, both from within the Church and without. Yet, he has bourne this suffering with grace and humility.
The Paschal Mystery also entails sacrifice. Joseph Ratzinger made many sacrifices even before he was elected Pope. It was not easy for him to leave the Metropolitan See of Munich-Freising when the Venerable Pope John Paul II asked him to serve as Prefect for the Congregation for the Doctrine of the Faith. He had only been archbishop for five years. On April 18, 2005, he entered the conclave with some degree of certainty that he would return to Germany and take up a quiet life of retirement and study with his brother, Msgr. Georg Ratzinger, but, God had other plans. The Lord called him, much as he did St. Peter, to leave the nets of security behind and follow him.
In his blog, Fr. Z urges us to recite this prayer for Pope Benedict XVI on this, his 84th birthday:
V. Let us pray for our Pontiff, Pope Benedict.


R. May the Lord preserve him, and give him life, and bless him upon earth, and deliver him not to the will of his enemies.

Our Father. Hail Mary.

Let us pray.

O God, Shepherd and Ruler of all Thy faithful people, look mercifully upon Thy servant Benedict, whom Thou hast chosen as shepherd to preside over Thy Church. Grant him, we beseech Thee, that by his word and example, he may edify those over whom he hath charge, so that together with the flock committed to him, may he attain everlasting life. Through Christ our Lord. Amen.
I unite my feeble prayers with those who love Pope Benedict XVI. I pray that the Lord will grant him long life, consolation in his sufferings and strength!
Viva il Papa!!!